What's new?
December 28, 2009
The Christmas Letter can be found here (in a day or two).
Find us on Facebook! Dave's Facebook Page Catherine's Facebook Page
January 30, 2009
I know you all have been waiting for a holiday update letter, but unfortunately since a few days after Christmas Marc's Grandma Dolores has been in the hospital. She has been fighting Stage 3 Ovarian Cancer for 3 1/2 years.
Unfortunately she lost that battle late last night. We'll miss you Mommy's Mommy (that's what Marc always called her).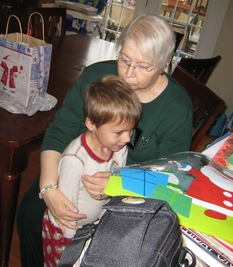 December 30, 2008
Merry Christmas everyone. The cards were printed and a draft Update Letter was ready in mid-December. Marc got "almost pnuemonia" and a multitude of other stuff came up, which brings us to today. The cards will go out tomorrow and check back here in a week or two and "I promise" you'll have a Holiday Update Letter. I promise. I'll also put some more recent photos up on flickr as well.
Happy New Year!
November 9, 2008
Flickr Photos have been added for the last month. Thes include a trip to the Science Museum in Augusta with Grandma and Pop and Halloween!
October 12, 2008
A bunch more photos of my baby brother, me golfing and visiting a Game Ranch were added today. Click on the Flickr badge to the left to go see them!
Sept 6, 2008
<---- Tons more photos added to Flickr. I'm revamping the site to better represent the 2 kids.
July 11, 2008
Marc's new baby brother was born, 2:28 pm, 7 lb 7 oz, 19.5 inches. Sean Christopher.
Pics on Flickr. Just click the link to the left and look for the new set....
May 26, 2008
Pictures from the pirate birthday party are up on flickr
May 10, 2008
My 4th birthday invite, Daddy made it!
April 25, 2008
See pictures of Marc's upcoming little brother, currently known as "Little Child" Matos
Little Child on Flickr
---
Thanksgiving 2007-
Quarterly update to the photo albums ;) If you need a PicFix quickly, check out Daddy's Flickr PhotoStream it's updated almost daily! New photo albums posted:
- June-July 2007: Trip to Tweetsie Railroad with Grandma and Pop, a trip to Mommy's-Mommy and Grandad's for some golf and waterslides, a couple of birthday parties, a trip to the aquarium with Elizabella and a few fun places with Cousin Ben.
- August & September 2007: Fun, Fun and more fun. Cousins, games, etc.
- October through Thanksgiving 2007: Thrashers, games, Making snow, Halloween, Cousin Ben's Birthday and Pinball!
---
June 16, 2007-
We just got back from The Bahamas, so I had Daddy update the photo albums from my 3rd Birthday Party and my big trip!
May 5, 2007
Finally... new photo albums. Check back in a couple of weeks for my 3rd birthday pictures. The Christmas 2006 card and letter have also been posted.
Piratey birthday invites are on their way, arrr!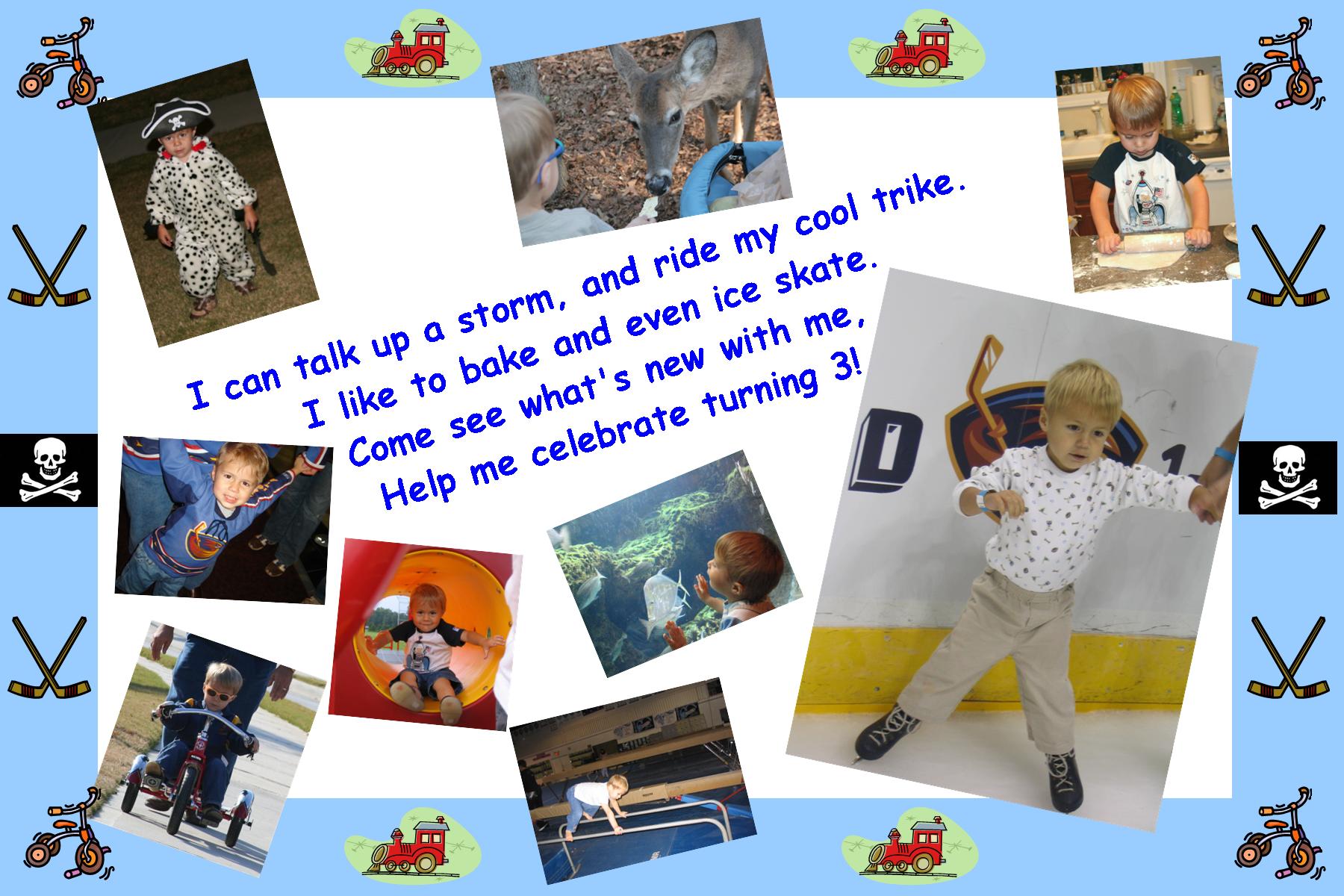 November 4, 2006
Daddy will get more Halloween pictures up soon, but here's one to tide you over.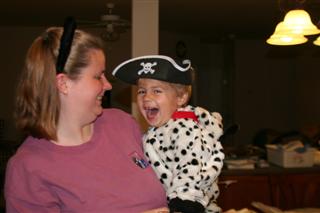 Mommy and Pirate Puppy Marc
September 30, 2006
First time Ice Skating (at Philip's Arena, how cool is that?)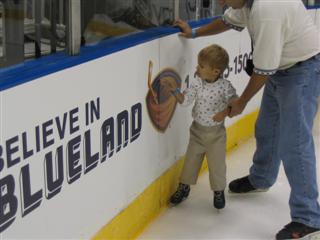 New albums:
June - Independence Day Parade at school, "How's that work? [Merry] Go 'round ride, Me in the Penalty Box, my animal parade and me and cousin Ben. Oh yeah, and one of those 'it'll come back an haunt me' pictures in mommy's shoes.
July - Independence Day and Fun at the Park with Charlie.
August - Zoo and Sam's Birthday
September - First time skating!
--
June 21, 2006
Marc and Charlie go to the Aquarium. This is what happened...
June 3, 2006
Ok it's taking Daddy a little longer than expected to get the new website up. He did however finally put up photo albums going all the way back to Christmas. The new site should be up soon :)
New Albums:
Christmas 05 - Subdivision Christmas Kids Party (w/ Andy), a tree with not alot of decorations (I helped), my NEW CAR!, so much fun I fell asleep during dinner, ready for poker.
January 06 - The land of "Hundreds of Gifts", Aquarium trip, other random stuff
February 06 - My "Atlanta Traffic" Re-enactment on the coffee table, bubbles and my "I'm not going to smile smile", Ben's Birthday at Pump It Up.
March & April 06 - Zoo, Loki finally got me, Easter and my "BUS!"
May 2006 - My 2nd Birthday Bash
--
May 22, 2006
My 2 year stats: 36 inches tall (90 %ile), 28.4 lbs (50%), 19.25 in (50%ile) head circumference
Here's my cake (Cakes by Ashley):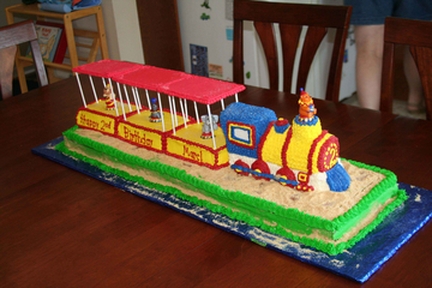 May 17, 2006
My 2nd birthday is right around the corner (hopefully daddy will get my new and improved website up soon).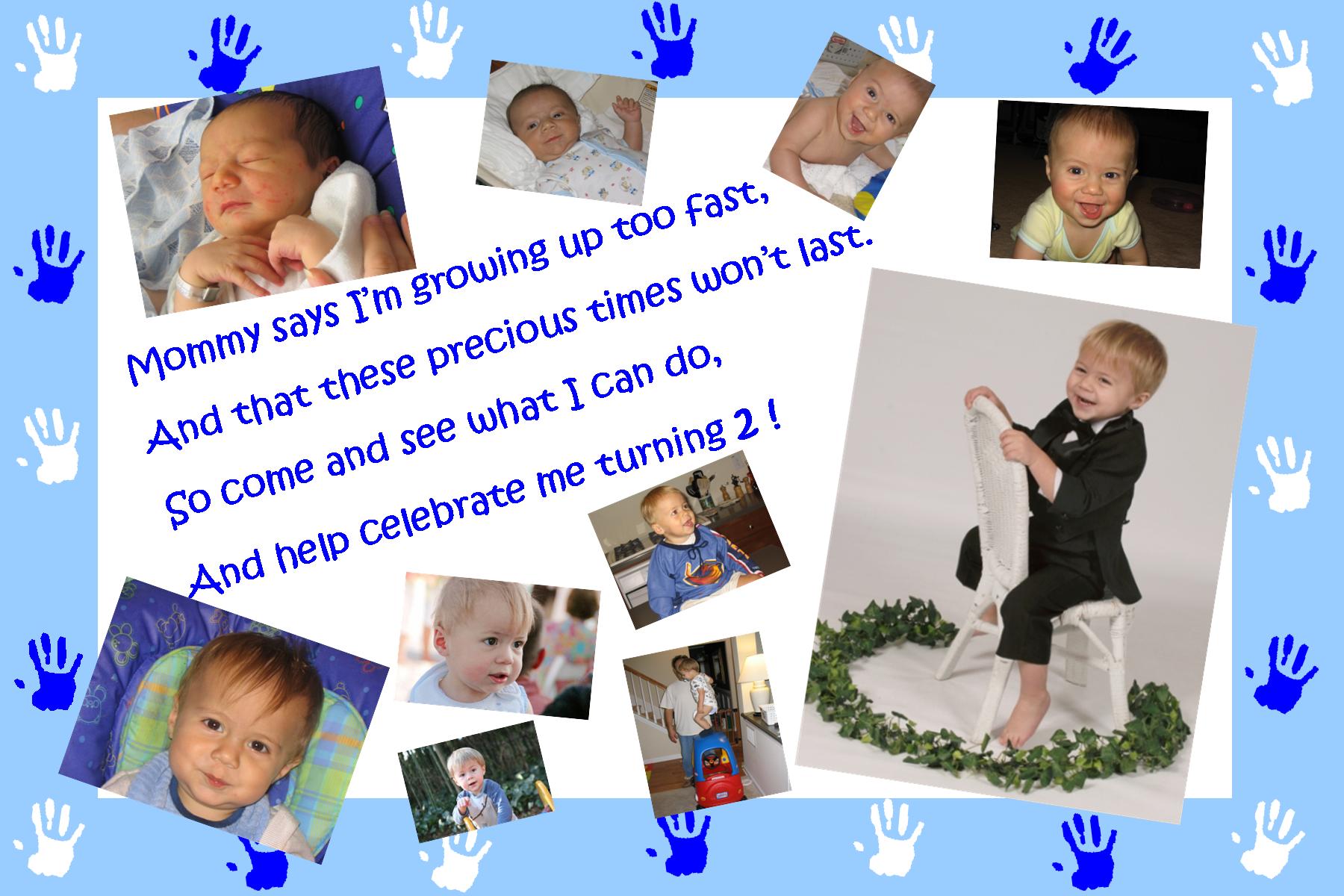 May 14, 2006
Marc's site is migrating to a new server - it may be down intermitently for the next couple of days. Look out for Marc's brand new website in the next few weeks.

March 30, 2006
School Pictures (in a tux) - 21 months
March 1, 2006
Daddy was out of town for a couple of days and I learned a new trick and had to show it to him right away!
Wanna see it? The video is 6 MB, so you better have broadband.
Here's a hint at the excitement to come ->

January 2, 2006
Christmas Card 2005 posted
December 24, 2005
Daddy posted my annual Christmas Letter - but you'll get a hard copy in the mail soon! Scroll way down, it's near the bottom of the left column.
December 17, 2005
Ok, I finally managed to grab Dad long enough to get him to put up photo albums from late August until now. Busy doesn't even come close to explaining my life right now (Mom and Dad are pretty busy too). What should you look for in the new photo albums...
Late August - Thrashers Select-a-Seat (my first time at the Arena), Centennial Park with my The Grandparents Matos, playing in the "Olympic Ring Fountain", Driving a Zamboni (with a dirtyish pircture on the dash), reading and doing Math problems.
September - My First Braves game (with Uncle Mike), My First Thrashers game, Still More Fun with Food, Atlanta Children's Museum, Meeting Ted Turner (no pictures, sorry). Daddy took movies of me at the Braves Game - look for them to be posted soon, too.
Early October - Thrashers Opening Night and Face-Off "meet and greet" event.
Late October - My new Winter Coat, Boo at the Zoo, Hopping on Pop and Sleeping with a Pretzel (don't ask why, I just wouldn't let go).
November - Cousin Ben's 2nd Birthday, Disabling the Baby Gate, Vacuuming, Look I'm a Spaceman (sorta), Haircut, Thanksgiving at The Grandparent Moseleys (reading with Great-Uncle Jim and Cousin Amy), and Dogs...
Early December - Hanging out at Home, Helping with the Christmas Tree and my new puppets.
December - Georgia Aquarium - The new Georgia Aquarium. My first visit and Whooooooaaaaaaa.... not my last.
Grandparents Matos deserve some photo credits (they're loving their digital camera- anything with a lower number is probably theirs).
If you heard a beep, click the "allow blocked content" - thanks Microsoft.
---
September 10, 2005:
Wow, I've been busy... so busy, so fast and so 'bad' that my Daddy hasn't had a chance to update my website in months. New photo albums have been added for late-May, June (2 of them), July (3 of them) and early August. Here are some short notes about each, maybe Daddy will have enough time to write more (in about 17 years)...
Late May - Ride-on Horse, Great-Grandma Ramey and Sussa, Spaghetti-Os, my Kitty, ready for the pool.

June - A - The Beach, shark watch helicopter, fun with socks

B - Australian Sunset Safari - Atlanta Zoo

July - A - American Sunset Safari - Atlanta Zoo - First Train Ride (scary tunnel), First Merry-Go-Round ride.

B - Zoo Breakfast - Baby Flamingos, Baby Tamarinds, Lions!

C - Being Bad, Fun with our noses, more sock fun, poker hat

August - Luau, reading, being a couch potato